Three weeks into her pregnancy, Barbara Jacques found out she had a tumor four times the size of her ovary that put both her and her baby at risk.
Stunned, she began researching, and discovered studies that showed Black women are disproportionately exposed to toxic chemicals through beauty products, and this is often linked to reproductive disorders.
Already a proponent of healthy living, Jacques adopted a vegan diet. She also developed a kitchen-table hobby that supported her journey to root toxins out of her life while offering a distraction from worry: creating healthy all-natural skincare products for herself.
Spoiler alert: 12 years later, both mother and daughter are thriving. And so is Jacq's, a plant-powered organic and sustainable skincare brand "for the forgotten hues" that her daughter Dominique already plans to take over one day.
Jacq's, an e-commerce business based in Florida, was named a winner last month in a contest run by the non-profit initiative Black Ambition and supported by The Rockefeller Foundation and awarded $50,000 to help it grow.
Two recent national surveys show that Black-owned businesses, one of the hardest hit groups at the beginning of the Covid-19 pandemic, had more difficulty receiving credit and more often needed that credit just to keep the lights on.
At The Rockefeller Foundation, we are focused on making sure that every person in the U.S. can meet the basic financial needs of their family for a path to a better future, and one way to do that is through supporting historically under-resourced Black-owned businesses.
Black Ambition Prizewinners Offer Advice for Entrepreneurs:
Remember your mission. As business owners, we can get lost in the day-to-day and forget the why.
Understand your financials and numbers.
Celebrate your wins and take time off.
—Barbara Jacques, Jacq's
Test the product and how you communicate about it with your potential customers.
Start talking to investors early and update them along the way to build those relationships.
Be intentional about managing your schedule and mapping out your priorities, personal as well as professional.
—Chris Oates, WAJU
Get comfortable with hearing no and keeping up the momentum anyway.
Focus on your mental health as well as your business.
Make sure this is your true passion; otherwise, you may give up in the hard times.
—Camille Bell, Pound Cake
The median white family had $184,000 in wealth in 2019 compared to just $38,000 and $23,000 for the median Hispanic and Black families, respectively, according to Federal Reserve Bank of St. Louis researchers. And the U.S. Treasury noted in September that closing the racial wealth gap and addressing inequitable practices would spur economic growth to benefit the country as a whole, a data point often reinforced elsewhere.
"Since The Rockefeller Foundation made its initial commitment to Equity and Economic Opportunity back in 2019, we have made over 100 grants totaling over $100 million, much of which has ended up directly in the hands of entrepreneurs like Barbara Jacques," said Gregory Johnson, Managing Director of the Equity and Economic Opportunity initiative at The Rockefeller Foundation.
"Beyond closing the racial wealth gap, our mission is to empower Black and Latino/a business owners and provide them with the direct funding and resources they need to build a legacy for themselves, their families and their communities."
Black Ambition was founded by Grammy Award-winning musician Pharrell Williams to close the opportunity and wealth gap by investing in Black and Hispanic entrepreneurs.
"To date, Black Ambition has awarded nearly $6 million to 65 trailblazing Black and Hispanic founders who are building the businesses of the future," said Felecia Hatcher, Black Ambition's CEO. "As we continue to grow our network, our goal is to create a supportive ecosystem for founders to have the space, relationships, and opportunities to excel uninterrupted."
We Deserve Clean Products
Jacques, who had been making her own haircare products since college, began her new venture by creating soaps and scrubs. Soon family and friends began putting in requests. She was happy to comply; she considered what she is doing a diversion— "not a business."
"Slowly, I realized my story was bigger than me," she says. "In Black neighborhoods, there are beauty supply stores on every corner, but products are created cheaply because it's all about the profit margin."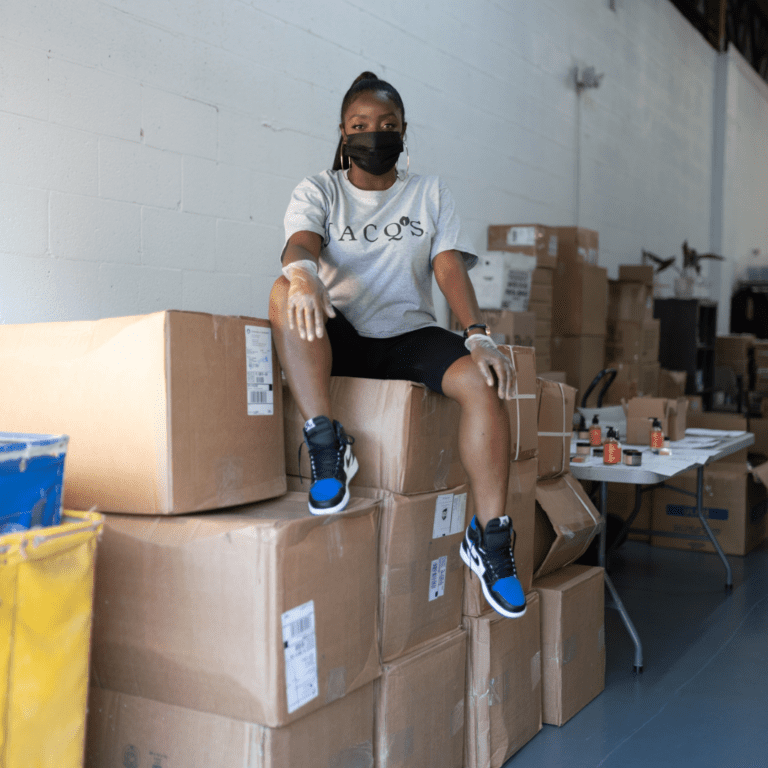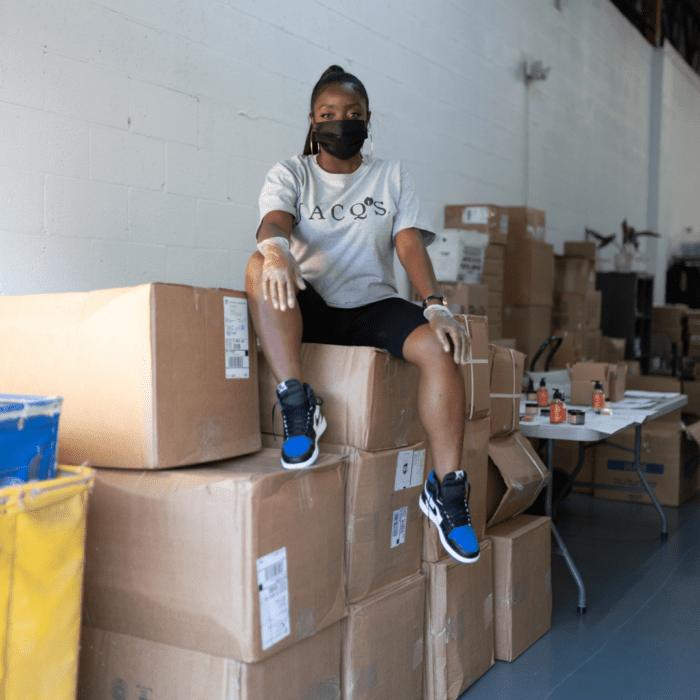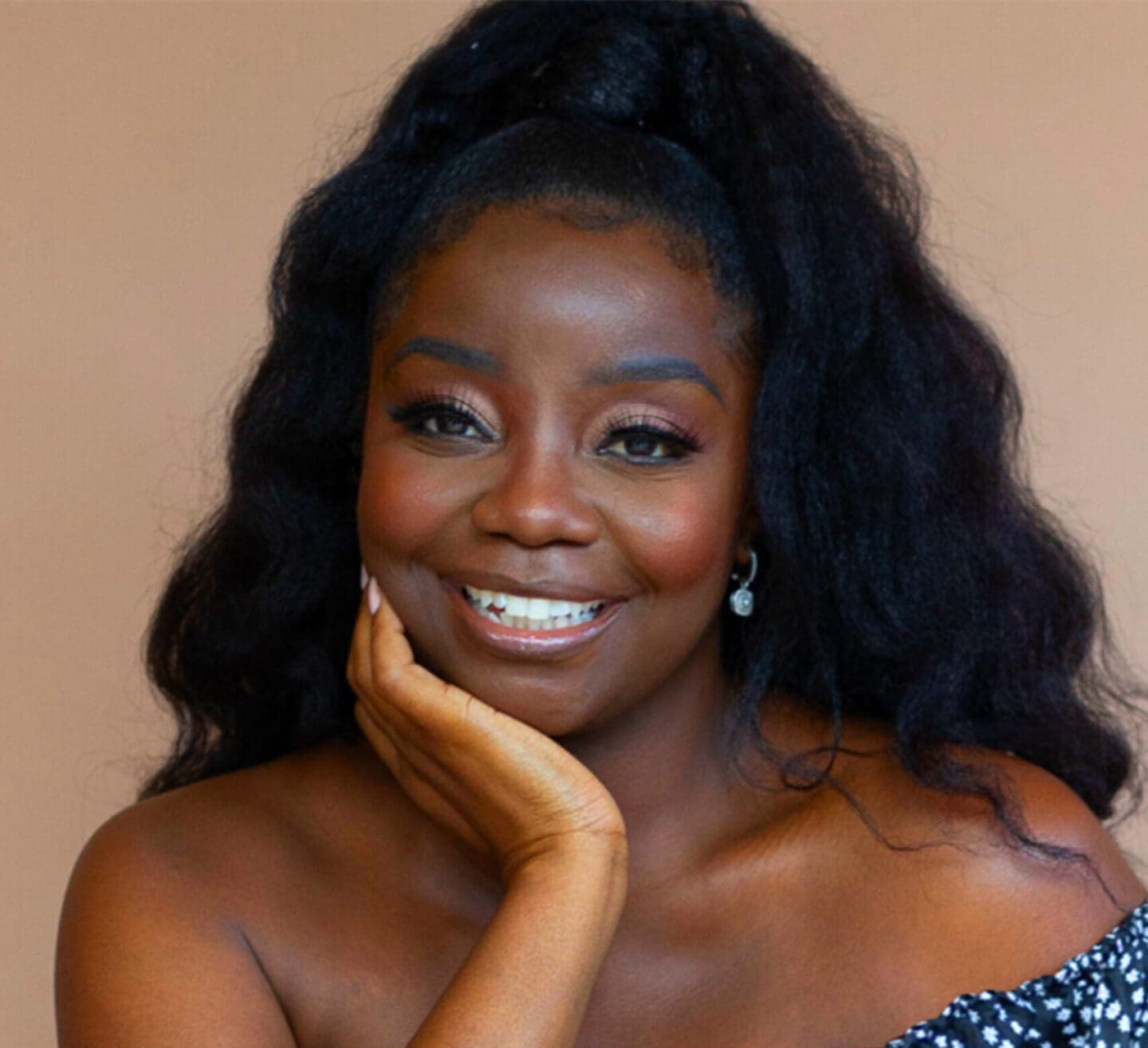 "The beauty industry is Eurocentric. Women of color are after-thoughts, used in marketing campaigns but not considered for clinical research. We deserve to have clean products formulated for our skin type and skin tone."
-Barbara Jacques
The mentoring she received from the Black Ambition team, she says, was "lifechanging. Entrepreneurship is lonely. I question what I'm doing every day. Their coaches were present and caring."
Receiving the monetary prize was just an extra bonus, "a moment of joy. I've poured all our savings and all our free times into this business. This will help pay for a lot of what we want to do to expand the business in 2023."
Fighting Water Scarcity While Building a Business
Chris Oates, another prize winner, concurs that the connections and support Black Ambition provided was invaluable. Prior to founding WAJU Water in late 2021, Oates worked at two of the world's largest beverage companies for almost a decade, including PepsiCo. He says WAJU is "the first water sourced exclusively from naturally occurring water within real fruit." He offers three varieties: Lemon Water, Strawberry Water and Blueberry Water, all upcycled from water within organic fruit.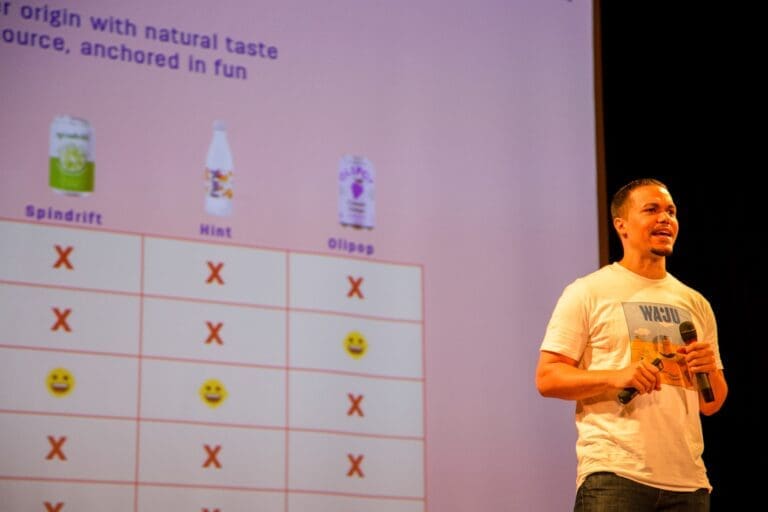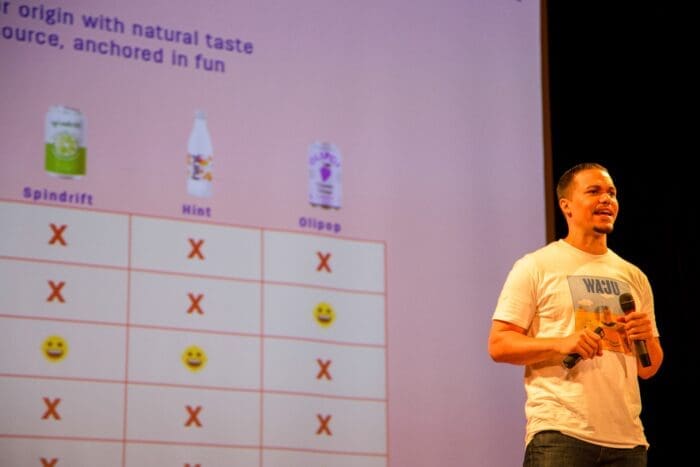 Chris Oates, founder of WAJU, pitching his product. (Photo courtesy of Chris Oates)He believes not enough attention is being given to global water scarcity, noting that over 2 billion people currently live where water supplies are inadequate and half the world's population could face water insufficiency by 2025.
"A core part of our mission is to bring awareness around water scarcity and inspire innovative solutions to help address it. It is a huge issue people aren't talking about. What's the Number One resource that humans need to survive? It's water."
-Chris Oates
"Seven hundred million gallons of water is dehydrated from fruit and discarded each year by U.S. juice suppliers," he notes. "With WAJU, we're empowering our fans to help, because every time someone drinks a 12-ounce can of WAJU, that's 12 ounces of water that would have been flushed away."
This year, Oates says, was "a proof-of-concept year" to understand how to best communicate a new category of water. 2023 is on track to be a big year as its drinks have been picked up by a major grocery chain carrying healthy and organic foods, helping to accelerate WAJU's retail footprint to over 400 stores by the first quarter. The monetary award WAJU received from Black Ambition will be used to support this growing demand.
Lipstick for the Marginalized
The top prize went to Pound Cake, co-founded by Camille Bell to create liquid lipsticks for all skin and lip tones.
Attending elementary school in rural Pennsylvania, Bell was the only person of color in her grade, and she encountered subtle and direct racism. "It impacted how I viewed myself—my skin tone, my hair, my facial features," she says. "The way I approach Pound Cake has a lot to do with my childhood. I know how it feels to be excluded."
So, Pound Cake was founded with "a strong focus on folks who are Black or Brown, fat-identifying or queer—identities neglected by the beauty industry."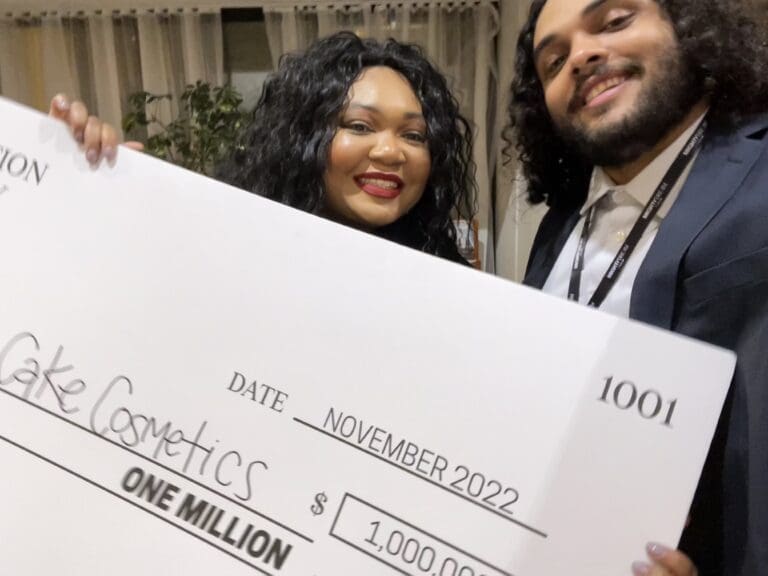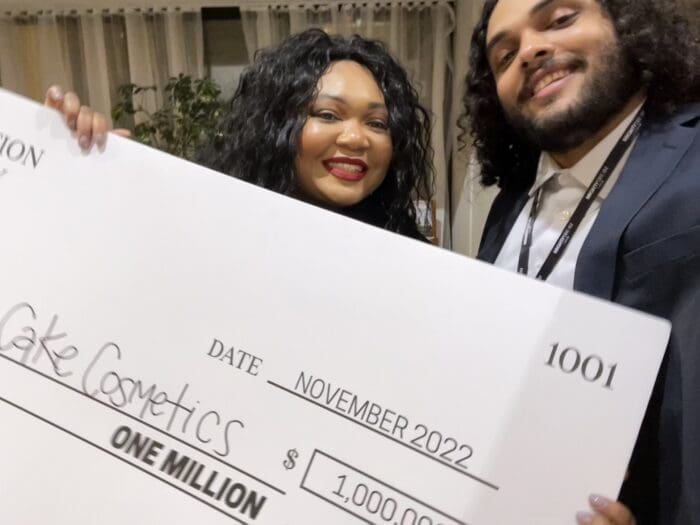 Camille Bell and Johnny Velazquez, co-founders of Pound Cake, receive the top award from Black Ambition. (Photo courtesy of Camille Bell)
Bell says she "always loved makeup. However, when I put red lipstick on, for example, I was disappointed. It would look orange instead, or not show up at all."
Pound Cake, which features five shades of lipstick for five specific skin and lip tones, launched in September 2021 and sold out in 48 hours. It was named on TIME Magazine's Best Inventions of 2022 list, and received two Allure Best of Beauty awards as well as a Best of Clean Beauty award from Glamour magazine. It was also selected by ULTA Beauty to be in their inaugural accelerator–all within its first year, and as a completely self-funded business.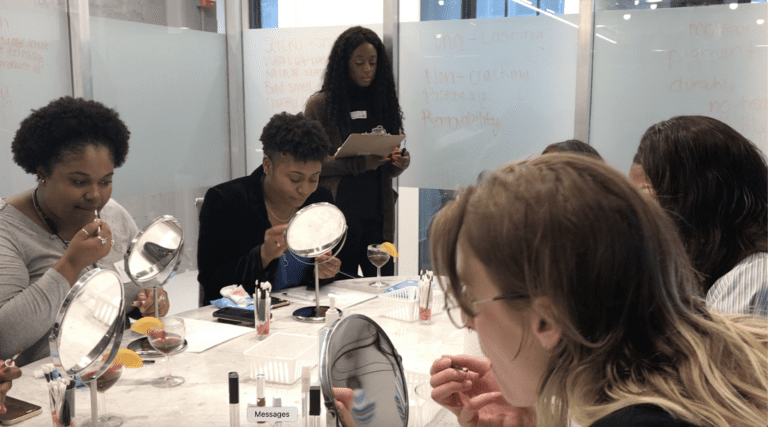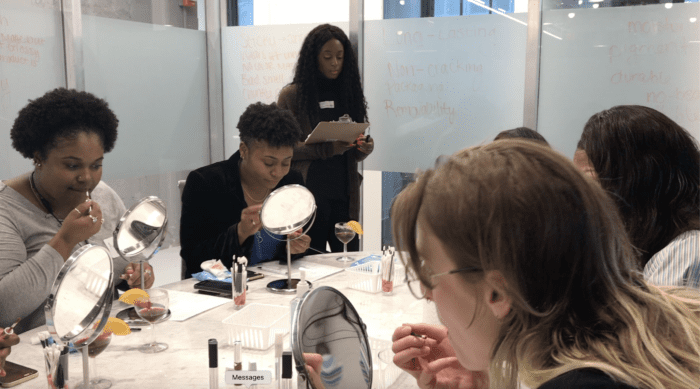 There's more to explore. Other Black Ambition prize winners include Sip & Sonder for coffee and tea lovers, Kazmaleje, selling hair combs, brushes and accessories, Green Regimen, offering plant-based protein powder, and Curiosity Lab, a socially conscious consulting and marketing agency that offers workshops and Actually Curious, a card game to fight divisiveness. Applications for next year's prizes open in March 2023.